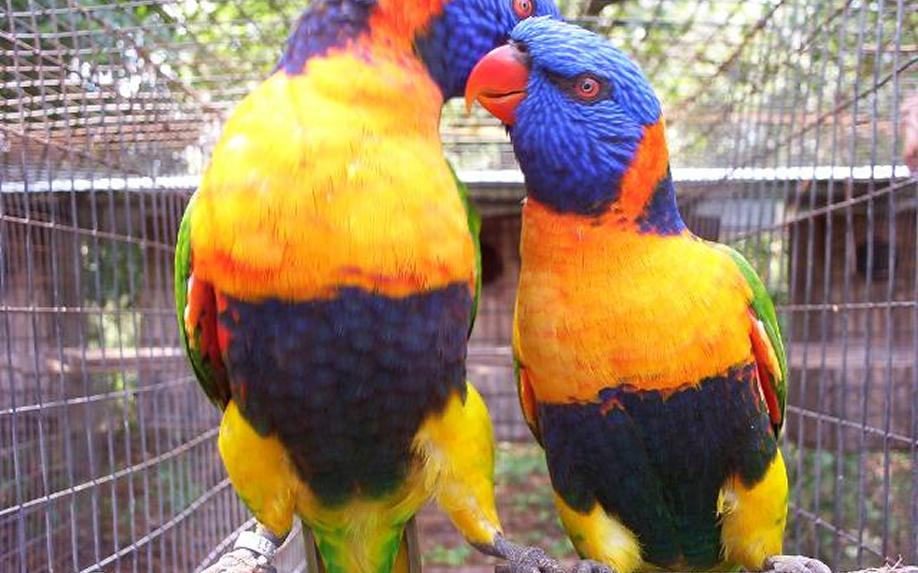 Lories and Lorikeets diet and handfeeding info
Introduction
There are many different types of Lories. The difference between a Lory and a lorikeet is in the tail. A Lory's tail is all the same length (like an Amazon's) and a Lorikeet's tail is pointed and has a long central tail feather with each one shorter than the next (like a cockatiel). Size does not differentiate whether it is a Lory or Lorikeet. Lories can be from the Chatterings, (approx 250 grams) Yellow Streaks, Black Caps, Reds, Blue Streaks on down to the little Blue Crown Lories (approximately 50grams). Lorikeet tend to be any of the 23 different Rainbow species to the Stellas to the little Red Flanked (all of these are medium to small)
Lories Nutritional Needs
Lories and Lorikeets are fruit, pollen and nectar eaters (some of the different Lory species require a little variation). I feel you get out what you put in. Just because you are able to make a slurry and the bird eats it doesnt mean that it is good for the bird. They are on a "special" diet because their gizzard is not as proficient (as the seed/pellet eating parrots)at grinding nutrients down so that their body may absorb the ingested food. I make my own food because I have 300 Lories to feed and also was not happy with the quality of the commerially available food. Lory food that I can recommend at this point is Nekton (for the smaller Lory species) (but it is very expensive) and of course my personal favorite is www.lorynectar.com Jordan Daniel and Terry Barber's food. Higgins In-Tune Lory nectar is a good food too. Best to add 1/4cup of Bee Pollen Per 5 pounds to this food.
Mazuri (Purina) is now producing and selling a nectar for Lories based on my diet. http://www.mazuri.com/mazuriminipigelder-1-1-1.aspx
My Diet's Ingredients:
Fructose fruit sugar, millet flour, brown rice flour, sucrose sugar, soy protein isolate, bee pollen, dried apples, calcium citrate, dried hybiscus flowers, dried rose petals, powdered carrots, dried bell peppers, coconut, dried spearmint, spirulina, nutritional yeast powder, powdered alfalfa, milk thistle seed powder, eucalyptus leaf, barberry powder, dandelion leaf powder, papapya leaf powder, powdered aloe vera, barley grass powder, wheat grass powder, bentonite clay powder, xanthan gum, ground freeze dried blueberries, multi-mineral powder.
Some of my diet formulation research
An excellent book for Lory info is"Parrots of the World" by Joseph M. Forshaw. If you are not familiar with this book it is an excellent source of information. Beyond specie and sub-specie descriptions/locations they also list what the person observed the birds eating(they list the flowering trees Latin name usually) in the wild plus as an extra bonus they included a lot of listings of crop contents or stomach contents that were examined. Most of the contents that are described for the lories are as follows(it varies from specie to specie): small berries, vegetable matter(apparently from coconut flowers), small black fruit-stones, light green pulp, fine vegetable matter probably flower fragments, nectar, pulp fragments of flowers, flower heads from Casuarina sp., seeds, including those of Solamum sp. small grubs, pollen, small insects, caterpillars, and small red seeds The only reference to hard seed was in the Musschenbroek's crop content which makes sense because they are one of the only two Lories which should be fed hard seed.(Iris being the other) These are excerpts from the book on the observations at to what the Lories (various species) were observed eating. "Food comprises pollen, nectar, fruits, blossoms", "leaf buds, insects and their larvae". "Pupae of the Poinciana Moth and seeds of the Cassia" "it was reported that they eat Tectona and Casuarina seeds but suspect that these would be supplementary to nectars and fruits." "They are fond of cultivated fruits especially apples and pears" "They also attack maize and sorghum crops to feed on the unripe 'milky' grain. "
"Steinbacher notes that the ventriculus or gizzard of the Loriidae is weak and not muscular, particularly in species that feed almost exclusively on pollen and nectar(hence the reason Lories should not be expected to thrive on dried seeds their gizzard is not strong enough to break that food compound down enough to extract proper nutrition from it.) I know that Lories can eat sunflower I just dont make common knowledge out of it because some people tend to think if a little is okay a lot is good. When they eat seed out in the wild it is softer supple seed (unripened undried) Dried seed in the parrot mixes are not what they are foraging for in the canopy if trees out in the wild. Yes some of them will try it if offered but their gizzard is not geared towards assimilating hard dried seeds. So if you were feeding sunflower seeds directly off a freshly plucked sunflower head I would say great but to feed dried sunflower seed from a bag not great. Apples and humming bird nectar is nothing but carbohydrates no fat or protein. Yes if fed that diet over a period of time they would not last very long. We as humans may not need carbohydrates but the Lories do. They need a balance of Carbohydrates, Protein (not as high as other parrots) and fat.(low)
So when I cite that Lories are fruit, pollen and nectar eaters this is my basis of info and I feed my birds accordingly. (I produce 25 to 50 chicks per month throughout the year so I think I am on the right track). The "Parrots of the World" book was compiled from observations and necropsies done out in the wild in the Lories native habitats. No one has presented me with any scientific information to contradict the information found in this book.
When feeding Lories I think it should be kept in mind that they are fruit, pollen and nectar eaters(of course each specie varies on the intake). Watch how they eat a flower. First they use their tongue all over the interior/exterior of the flower removing the pollen, then they usually crunch the flower up. When discarded (if any left) the former flower is a mashed looking piece of pulp. I am sure they ingest bugs here and there when engaged in their mash fest. They like new edible shoots (mine are totally enjoying all the new bamboo that is growing up under the cages---if you feed them plant shoots make sure they are on the non toxic to parrots plant list.) They need fruit and tend to enjoy the juicy fleshy ones best. I have not heard of them out in the wild getting animal meat(cow and chicken), milk, baby cereal (iron fortified by law) pancake mix and some of the other crazy concoctions that I have been told what people are feeding their lories. Some people think if you can juice it into a "nectar" then you are feeding "nectar". It is just such a loose word. I can physically ingest grass but cannot live off of it. In the earlier days of Lories for me (late 80's) I went into a pet store and they were feeding a Red Lory nothing but sunflower seed and a small piece of banana. I said that was the wrong diet they told me "well he's eating it". So just because you are able to starve your lory into eating something doesnt mean that is the right diet also. Commercial Lory diets serve their purpose. They are balanced towards a Lory bodies needs (most are anyway) in conjunction with most types of fruits(not vitamin c based ones--citrus and pineapples as example) and some veggies I think that is best for most people and their Lories. Commercial diets are easy and convenient to use. Before making my own(yes I've had it analyzed) I used Lory Life and loved it for years. When I sell any of my Lories I encourage a commercial diet plus fruit. It is at least a diet people will stick with when feeding a Lory. I try to discourage them from making their own concoctions. Too much left to guessing. You get out of a Lory what you put into them. Feed them good and they will flourish, feed them bad and they will cease to exists. Cheapest food is not bestest food. If you do insist on assembling your own food at least keep in mind what their forefathers and foremothers were eating in the wild---fruit, pollen and nectar because it has been too short of a period of time for them to have evolved differently.
Handfeeding Chicks Proceedures
I have been day oneing Lories(and occasionally other parrot species) since 1990. I incubator hatch about 98% of my babies at this point. When you day one it is best to have the formula a little thinner when feeding just hatched chicks, this is only for the first couple of days. When I say thinner I just mean runny, I dont mean transparent. I fill the crop as full as it will get and try to add a little more. When parents feed they stuff the chicks so full, sometimes I dont see how they are sitting up right. I use Zupreem Embrace Plus handfeeding only (no nectar added). I feel that it is a more refined (therefore more easily digested by the Lories weak gizzard). I do not mix nectar in until I am weaning a Lory. They need protein and some fat when they are developing/growing. They do not need carbohydrates (energy) until they are weaning. I also feel that because candidae is a yeast and yeast feeds on sugar there is no good reason to add nectar until weaning when the babies then need energy food.
I start handfeeding around 7-8 am. The ones that are days old should be getting food every two to three hours. The last feeding of the evening is 10pm. My theroy is the parents upon waking up in the am and leaving the nest have to forage for food then get back and feed chicks. They can not forage for food before dark or after dark. Most pairs retire for the evening about 15 to 30 minutes before dark (yes there are some that dilly dally up until dark) So I see absolutely no reason to feed through out the night. Best case scenario is dark around 830 to 845pm (summer only of course) crops empty within hours. No more intake until next am. IF a chick cannot make it through the whole night with out eating I do not think it should be saved. There is something wrong with it. Say you are able to raise it up(by feeding around the clock) to what end?? a substandard chick that will expire prematurely a little down the line from some problem?
I incubate in a Grumbach then when I see them up in the aircell I move them to the brooder. I keep the day old chicks in a Havabator forced air incubator (the 1583 model with the large window) I keep that incubator (as a hatcher/brooder) at 99 to 100 degrees. I want the chicks body to be concentrating on growing not trying to keep warm. Parents bodies are I think 102? (I know over 100) They are in this unit until they are approximately 5 to 7 days old. Keep the brooder with high humidity--simple as a cup of water placed inside. Their skin will peel if the humidity is too low. Then they are moved into the AVEY brooder. This unit has two shelves the top shelf is 98 degrees and the bottom shelf is 96 to 97degrees. The door is left a little ajar on this unit for more air movement which helps with their growth. Keep the humidity up at this stage too.
At 12 to 14 days old I move them out into bins (new bins for every group) that are now housed "open air" on heating pads set on low (no two hour auto shut off heating pads!!!) The ambient air temp is anywhere from 77 degrees to 82 degrees in this room. The chicks coat of down comes in much faster after being exposed (no they are not shivering) to the open air.
I use O-Ring Syringes with center or side tips (luer slip) (dont get the screw tips (luer lock) they are not precise enough unless you are attaching a tip) they have a much more smooth fluid disbursement. The one time use syringes (monoject types the ones with the black rubber plungers) are lubed with oil. They are meant for one time. Some people use them until they cant move. I find two things wrong with this first they are lubed with oil. Where is that oil going? Second you will hit a (dry/tough spot) and the syringe will need extra force to continue the disbursement. Then all of a sudden it hits a lubed spot and you now get a much larger faster flow going into the chicks mouth/esophagus/trachea potentially aspirating it. Parrots can not cough anything up out of their lungs (hence the reason they aspirate on food or are candidates for aspirgillious) So the odds of getting anything out of their lungs is quite small. They only way I have been successfully with aspiration was to get the chick up side down asap. I hold it and sling it hoping gravity will help out(do not let go of course). I know this is going to sound stupid but if they are partially aspirated if you do mouth to beak suction when they are emitting a noise that helps too (suction only on chick's exhale). I have saved some and have lost some to aspiration over the years (I day one over 200 chicks a year so the odds are that it does happen I hate it.)
Feed a just hatched chick just after their first defecation (this one is a very dark green) their body will now draw nutrients from the crop digestive system as opposed to the yolk. Sometimes if you feed prior to that dark green defecation the yolk can go rancid with in the body. If the chick was out in the nestbox and you dont know if this has occurred turn the chick up side down and look at the back end if you dont see a black line it has already occurred (fecal matter in the large intestine). Their skin in the belly/abdomen area is a a bit transparent at this age.
To day one a chick hold the chick in your left hand (only if you are right handed of course) on its back (gently securing the head between your thumb and pointer finger) if you have any trouble holding on to the chick, place the chick in a tissue on its back and that will secure it in that position for you while in your hand. For some reason they prefer to feed on their backs (with me and with the parents) at this age. With the syringe (I use a 1 to 3 cc for day ones then bump up to 5cc on 7 to 16 day olds ending up with 10 cc until weaning) in your right hand come in from the right (chicks left) angling the tip down and to the left. Dispense slowly. If the chick slows down prior to being full or doesnt have a feeding response at the beginning of feeding, squirt out a little of the mix from the syringe into a cup or sink. That usually gets you down into a little warmer fluid because it looses heat in the tip quite quick. Like I said earlier you will feed the formula a little thinner. I mix my cup of food up when feeding as per directions then draw the food into the syringe from the top level of the mixed solution(which tends to be a little thinner). Definitely try and stretch the crop when feeding (by feeding just a little more when you think the bump is just slightly slack) Make the crop tight. By the time I am weaning most of my Lories (rainbow and eos)are 15 to 20 ccs. The larger types are taking 20 to 30 ccs. I find they eat better as adults.
If a chick comes in from the nest cold NEVER feed a chick that is physically cold. Warm the chick up first then feed. Do not use food to "warm it up" ever. You can aspirate a lethargic chick.

By the time they are about two weeks old they start to prefer feeding while they are sitting in an upright position.
Fostering/breeding tidbits
On fostering (Lory to Lory) I would try and keep the age of the eggs with each other with in days (two days from the last egg that the incubating/foster hen laid) They will do three eggs within the same age range. If you try four or more you probably will lose the whole clutch--one egg rolls out and dies she rolls it back in then another rolls out and dies etc. If the ages are too far apart she may think the eggs are no good and cancel the clutch. If the pair is breeding get the eggs out of there. Most of the Lory species are interchangeable. Just be careful if you put a larger specie in with a smaller specie (or vise versa) the growth rate will be quite different and the larger specie even though younger may get the bulk of the food and bump the other kid off. If you have a good pair and they are going to lay but your egg eating pair has laid you can take each egg as it is laid (make sure the egg is not warm from her sitting. After the egg is laid they cool down then the hen sits and the set point is activated and the incubation period has started. If you can get the cooled or just laid egg you can store it for several days in a room temp dark place. Then when the good parents lay you can put the egg under them--as soon as the first egg is laid. The fostering method usually takes two pairs to incubate one egg trashing pair's eggs, because the foster parents lay two eggs also.
It is very funny to see a pair mating and when other pairs see or hear that they get in the mood. I like to place prolific pairs next to or near others to inspire them.

Chronic egg/chick trashing behavior is very hard to correct. Rarely after trashing clutch after clutch after clutch will they will settle down. I just day one everyone to avoid having that problem at all. Its not fair to the chicks. At least I am not trying to kill them.
Non-Toxic Wood for Birds
The following materials are not safe if toxic chemicals or insecticides have been sprayed on them. Before installing them in any cage, scrub all branches with a non-toxic disinfectant, then rinse and dry well (preferably in the sun.)
Tree Limbs non-toxic for birds:
ACACIA
APPLE -(Pesticide residue likely reasonfor periodic issues)
AILANTHUS - Tree of Heaven
ALDER - white alder -(See Dr. Vaden's site)
Alder / Buckthorn)
ALMOND
ARALIA - Fatsia japonica
ASH - Fraxinus
ASPEN - Populus
BAMBOO
BARBERRY- Berberis
BIRCH - see paragraph
BEECH - Fagus
BOIS D'ARC - horse apple tree
BOTTLE BRUSH
BUTTERFLY BUSH
CAMELLIA
CITRUS -(lime, kumquat, grapefruit, orange, lemon)
CORK - (not wood from cork oak, but cork)
CORN PLANTS
COTTONWOOD - Populus
CRABAPPLE - Malus
CRAPE MYRTLE - (not the same as myrtle)
DATE
DOGWOOD - Cornus
DOUGLAS FIR - Pseudotsuga
DRACAENA
ELM - Ulmus
ESCALLONIA
EUCALYPTUS
FIG
FIR - genus Abies
GINKGO
GRAPE VINES
GRAPE PALM
GUAVA
HACKBERRY
HAWTHORN - Crataegus
HIBISCUS
HICKORY
IRONWOOD - apparently toxic leaves
JADE PLANT
KALANCHOE
KUMQUAT
LARCH - Larix
LILAC - Syringa
MADRONA / MADRONE - Arbutus
MAGNOLIA
MAPLE - Acer - see Dr. Vaden's site
MANZANITA - Arctostaphylos
MESQUITE - remove sharp parts
MIMOSA
MOCK ORANGE - Phladelphus
MOUNTAIN ASH - Sorbus
MULBERRY - Morus
NANDINA -common name is heavenly bamboo
NECTARINE
NORFOLK ISLAND PINE - Araucaria
NUT TREES - exclude chestnut and oak
ORANGE - several sources lean toward safe
OREGON GRAPE - Mahonia
PALM
PAPAYA
PEACH
PEAR
PECAN
PINE - Pinus: see Dr. Vaden's site
PHOTINIA
PLUM
POPLAR - Populus
PUSSY WILLOW - Salix
RAPHIOLEPSIS - Indian Hawthorn
RIBBONWOOD
ROSE - Rosa
RUBBER PLANT - - Ficus elastica - see Dr. Vaden's site
RUSSIAN OLIVE
SASSAFRAS
SILK TREE
SPIRAEA
SPRUCE - Picea
STAGHORN SUMAC -(Rhus - not Toxicodendron - (see Dr. Vaden's site)
STRAWBERRY TREE -(Arbutus like Madrone)
SWEET GUM - Liquidambar
SYCAMORE
THURLOW
TREE FERN
VIBURNUM
VINE MAPLE - Acer
WEEPING WILLOW - Salix (GOAT, PUSSY & WEEPING)
WIEGELA
YUCCA


Toxic Wood for Birds
ALDER - red alder -see Alder / Alder Buckthorn paragraph at Dr. Vaden's site
ANDROMEDA - (Pieris / Lily of the Valley shrub)
APRICOT
ARROWHEAD VINE
AUSTRALIAN FLAME TREE
AUSTRALIAN UMBRELLA TREE
AVACADO
AZALEA - Related to Rhododendron
BANEBERRY - Actaea
BEANS - (castor, horse, fava, broad, glory, scarlet runner)
BLACK LOCUST - Robinia
BOX ELDER
BOXWOOD - Buxus
BUCKTHORN - (Cascara / Alder Buckthorn - see chapter at Dr. Vaden's site)
BRACKEN FERN
BURDOCK
CACAO
CAMEL BUSH - Trichodesma
CANARY BIRD BUSH - Crotalaria
CANNABIS
CASTOR BEAN
CEDAR - Thuja, Chamaecyparis, Cupressus
CHALICE - trumpet vine
CHERRY (see Dr. Vaden's site)
CHINA BERRY TREE - Melia / Texas umbrella tree
CHINESE MAGNOLIA - uncertain for safety
CHINESE POPCORN (TALLOW)
CHINESE SNAKE TREE - Laquer plant: -- sap contact is bad too
COMMON SAGE
CORIANDER - Cilantro
DATURA
DAPHNE - it's the berries
DATURA STRAMONIUM - Brugmansia: - - angel's trumpet
DIEFFENBACHIA
ELDERBERRY
EUONYMUS - Includes burning bush and more
EUPHORBIA
FELT PLANT - Kalancho baharensis
FLAME TREE
FIRETHORN - Pyracantha
FLAME TREE - Brachychiton / Sterculia
FOXGLOVE
GOLDEN CHAIN TREE - Laburnum
GROUND CHERRY
CROWN OF THORNS
HEATHS
HEMLOCK - Tsuga
HOLLY - Ilex
HONEY LOCUST - Gleditsia
HORSE CHESTNUT - Aesculus
HUCKLEBERRY - leaves bad: - - both evergreen or deciduous
HYDRANGEA
JASMINE
JUNIPER - Juniperus
KALMIA: also called Mountain Laurel
KENTUCKY COFFEE TREE
LANTANA - red sage
LAUREL - Prunus
LEUCOTHOE
LUPINE
MANGO -(fruit okay: not wood or leaves)
MEXICAN BREADFRUIT
MOCK ORANGE -(fruit, see note in safe list)
MONSTERA
MOUNTAIN LAUREL
MYRTLE - is a broadleaf evergreen: Is not the same as crape myrtle
NUTMEG
OAK - Quercus - all parts / tannins
MISTLETOE
OLEANDER
ORANGE - several sources lean toward safe
PEAR - some sources lean toward safe
PENCILTREE
PITCH PINE
PRARIE OAK - safety uncertain
PRIVET
RAIN TREE
RED MAPLE - see Maple paragraph at Dr. Vaden's site
RED SAGE - Lantana
REDWOOD - - - Sequiadendron, Metasequoia, Sequoia
RHODODENDRON
RHUBARB
SAND BOX TREE - - - sap has been used to poison fish
SOLANUM - Jerusalem cherry or pepino
SOPHORA - - - includes Japanese pagoda tree & Mescal
SUMAC - - - not all sumacs are toxic: (see Dr. Vaden's site)
TOBACCO
TANSY
TOMATO - stems, vines, and leaves
UMBRELLA TREE
WEEPING FIG -(Benjamin Fig or Ficus benjamina - see Dr. Vaden's site)
WHITE CEDAR - China
WITCH HAZEL - Hamamelis
WISTERIA
YEW - Taxus


Non-Toxic Foliage
Foliage non-toxic for birds:
ACACIA
ALOE
AFRICAN VIOLET
BABY'S TEARS
BAMBOO
BEGONIA
BOSTON FERN
BOUGAINVILLEA
CHICKWEED
CHRISTMAS CACTUS
CISSUS (KANGAROO VINE)
COLEUS
CORN PLANT
CRABAPPLE
DANDELION
DOGWOOD
DONKEY TAIL
DRACAENA VARIETIES
FERNS: (BIRD'S NEST, BOSTON, MAIDENHAIR)
FIGS: (CREEPING, RUBBER, FIDDLE LEAF, LAUREL LEAF)
GARDENIA
GRAPE IVY
HEN AND CHICKENS
IMPATIENS
JADE PLANT
KALANCHOE
MAGNOLIA
MARIGOLDS
MONKEY PLANT
MOTHER-IN-LAW (Are we sure?)
NASTURTIUM
NATAL PLUM
NORFOLK ISLAND PINE
ORCHIDS
PALMS: (ARECA, DATE, FAN, LADY, PARLOUR, HOWEIA, KENTIA, PHOWNIX, SAGO)
PEPPEROMIA
PETUNIA
PITTOSPORUM
PRAYER PLANT
PURPLE PASSION
ROSE
RUBBER PLANT
SCHEFFLERA
SENSITIVE PLANT
SNAKE PLANT
SPIDER PLANT
SWEDISH IVY
THISTLE
VELVET NETTLE
WANDERING JEW
WAX PLANT
WHITE CLOVER
YUCCA
ZEBRA PLANT
ZINNIA


Toxic Plants
Plants toxic for birds:
ARUM LILY
AMARYLLIS
ARALIA
ARROWHEAD VINE
AUTUMN CROCUS
AUSTRALIAN FLAMETREE
AUSTRALIAN UMBRELLA TREE
AVOCADO
AZALEA
BANEBERRY
BEANS: (CASTOR, HORSE, FAVA, BROAD, GLORY, SCARLET RUNNER, MESCAL, NAVY, PREGATORY
BABY'S BREATH
BIRD OF PARADISE
BISHOP'S WEED
BLACK LAUREL
BLACK LOCUST
BLEEDING HEART OR DUTCHMAN'S BREECHES
BLOODROOT
BLUEBONNET
BLUEGREEN ALGAE
BOXWOOD
BRACKEN FERN
BUCKTHORN
BULB FLOWERS:(AMARYLLIS, DAFFODIL, NARCISSUS, HYACINTH & IRIS)
BURDOCK
BUTTERCUP
CACAO
CAMEL BUSH
CASTOR BEAN
CALADIUM
CANA LILY
CARDINAL FLOWER
CHALICE (TRUMPET VINE)
CHERRY TREE
CHINA BERRY TREE
CHRISTMAS CANDLE
CLEMATIS (VIRGINIA BOWER)
CLIVIA
COCKLEBUR
COFFEE (SENNA)
COFFEE BEAN (RATTLEBUSH, RATTLE BOX & COFFEEWEED)
CORAL PLANT
CORIANDER
CORNCOCKLE
COYOTILLO
COWSLIP
CUTLEAF PHILODENDRON
DAFFODIL
DAPHNE
DATURA STRAMONIUM (ANGEL'S TRUMPET)
DEATH CAMUS
DELPHINIUM
DEVIL'S IVY
DIEFFENBACHIA (DUMB CANE)
EGGPLANT leaves
ELDERBERRY
ELEPHANT EAR (TARO)
ENGLISH IVY
ERGOT
EUCALYPTUS (DRIED, DYED OR TREATED IN FLORAL ARRANGEMENTS)
EUONYMUS (SPINDLE TREE)
EUPHORBIA CACTUS
FALSE HELLEBORE
FLAME TREE
FELT PLANT (MATERNITY, AIR & PANDA PLANTS)
FIG (WEEPING)
FIRE THORN
FLAMINGO FLOWER
FOUR O'CLOCK
FOXGLOVE
GYPSOPHILA PANICULATA - Sap of plant
GLOTTIDIUM
GOLDEN CHAIN
GRASS: (JOHNSON, SORGHUM, SUDAN & BROOM CORN)
GROUND CHERRY
HEATHS: (KALMIA, LEUCOTHO, PEIRES, RHODODENDRON, MTN. LAUREL, BLACK LAUREL, ANDROMEDA & AZALEA)
HELIOTROPE
HEMLOCK: (POISON & WATER)
HENBANE
HOLLY
HONEYSUCKLE
HORSE CHESTNUT
HORSE TAIL
HOYA
HYACINTH
HYDRANGEA
IRIS
IVY: (ENGLISH & OTHERS)
JACK-IN-THE-PULPIT
JASMINE (JESSAMINE)
JERUSALEM CHERRY
JIMSONWEED
JUNIPER
KY. COFFEE TREE
LANTANA (RED SAGE)
LARKSPUR
LILY OF THE VALLEY
LILY, ARUM
LOBELIA
LOCOWEED (MILK VETCH)
LOCUSTS, BLACK/HONEY
LORDS & LADIES (CUCKOOPINT)
LUPINE
MALANGA
MARIJUANA (HEMP)
MAYAPPLE(MANDRAKE)
MEXICAN BREADFRUIT
MEXICAN POPPY
MILKWEED, COTTON BUSH
MISTLETOE
MOCK ORANGE
MONKSHOOD
MOONSEED
MORNING GLORY
MTN. LAUREL
MUSHROOMS, AMANITA
MYRTLE
NARCISSUS
NETTLES
NIGHTSHADES: (DEADLY, BLACK, GARDEN, WOODY, BITTERSWEET, EGGPLANT leaves, TOMATO -stems, vines, and leaves,JERUSALEM CHERRY)
OAK
OLEANDER
OXALIS
PARSLEY
PEACE LILY
PERIWINKLE
PHILODENDRONS: (SPLIT LEAF, SWISS CHEESE, HEART-LEAF)
PIGWEED
POINCIANA
POINSETTIA
POISON IVY
POISON HEMLOCK
POISON OAK: (WESTERN & EASTERN)
POKEWEED
POTATO SHOOTS
POTHOS
PRIVET
PYRACANTHA
RAIN TREE
RANUNCULUS, BUTTERCUP
RAPE
RATTLEBOX, CROTALARIA
RED MAPLE
RED SAGE (LANTANA)
RHUBARB LEAVES
RHODODENDRONS
ROSARY PEA SEEDS
SAND BOX TREE
SKUNK CABBAGE
SORREL (DOCK)
SNOW DROP
SPURGES: (PENCIL TREE, SNOW-ON-MTN, CANDELABRA, CROWN OF THORNS)
STAR OF BETHLEHEM
SWEET PEA
SWISS CHEESE PLANT (MONSTERA)
TANSY RAGWORT
TOBACCO
UMBRELLA PLANT
VETCH: HAIRY/COMMON
VIRGINIA CREEPER
WATTLE
WEEPING FIG
WHITE CEDAR, CHINA BERRY
WISTERIA
YEWS
YELLOW JASMINE


Safe Fruits and Vegetables for Birds
Safe Fruits:
Apple
Apricot
Banana
Blackberry
Blackcurrant
Blood orange
Blueberry
Cantaloupe melon
Cherry
Cranberry
Dried dates
Figs (fresh)
Gooseberries
Grape
Guava
Honeydew melon
Kiwifruit
Lychee (Litchi)
Mandarin
Mango
Melon
Nectarine
Orange
Papaya
Peach
Pear
Pineapple
Plum
Pomegranate
Quince
Raspberry
Red Currants
Strawberry
Tangerine
Yellow Plum
Make sure that all apple, orange and other seeds are removed before letting your birds eat the fresh foods. And make sure you wash all fruits and vegetable thoroughly. It's always best to go organic for your parrots to stay away from pesticides.
Healthy and Safe Vegetables for Birds
Artichoke
Beans, cooked only
Bell Peppers
Broccoli
Brussels sprouts
Carrot
Cauliflower
Celery stalks
Chinese Cabbage
Corn (milky & soft)
Cucumber
Eggplant (fruit only)
Endive
Fennel
Green Beans
Hot Peppers
Kale
Lettuce
Parsley
Peas
Potato (cooked)
Pumpkin (and seeds)
Radish Red Beet (fresh)
Radicchio
Romain Lettuce
Spinach
Sprouts
Sweet Potato
Turnips
Watercress
Yams
Zucchini
Again, make sure vegetables are washed and preferably organic. The chemicals they feed the plants will harm you and your birds.
TOXIC OR UNHEALTHY BIRD FOODS
Avoid anything high is salt, sugar, and fat content.
Alcohol
Apple seeds
Apricot pits
Asparagus
Avocado (entire plant and fruit)
Beans - Kidney, Lima
Beans, any dried
Butter
Caffeine
Carbonated beverages
Cherry pits
Chocolate
Cigarette tobacco
Dried fruits (containing sulfides or sulphates)
Egg Plant
Gatorade
Milk/cream in large quantities
Nectarine pits
Olives
Onions (raw or cooked)
Peach pits
Pear pips
Plum pits
Raw Peanuts
Rhubarb
Tobacco
Tomato (entire plant, a little fruit okay)
Houseplants (most are toxic, not all)


Toxic Household Items
Household items toxic to birds:
ALCOHOLIC DRINKS
AMMONIA
ANTIFREEZE
ANT SYRUP or PASTE
ARSENIC
ASBESTOS
AUTO PRODUCTS
BATHROOM CLEANERS
BLEACH
BORIC ACID
CAMPHOPHENIQUE
CARBON MONOXIDE
CARPET CLEANERS
CARPET FRESHENERS
CHARCOAL FLUIDS
CHLORDANE
CHLORINE
CIGARETTE SMOKE
CLINITEST TABLETS
COPPER/BRASS CLEANER
CORN & WART REMOVER
DEODORANTS
DETERGENTS
DIAZINON
DISINFECTANTS
DRAIN CLEANERS
EPOXY GLUE
FELT TIP MARKERS
FLEA PRODUCTS
FLOOR POLISH
FORMALDEHYDE
FURNITURE POLISH
GARDEN SPRAYS
GASOLINE
GUN CLEANERS
HAIR DYES & SPRAYS
HERBICIDES
INSECTICIDES
IODINE
KEROSENE
LIGHTER FLUID
LYE
MATCHES
MELALEUCA OIL
MODEL CEMENT
MOTHBALLS
MURIATIC ACID
MUSHROOMS
NAILPOLISH/REMOVER
NITROGEN DIOXIDE
OVEN CLEANER
OVERHEATED NON-STICK
COOKWARE
PAINT & THINNER
PERFUME
PERMANENTS(HAIR)
PESTICIDES
PHOTO SOLUTIONS
PINE OIL
RX DRUGS
RODENTICIDES
RUBBING ALCOHOL
SCENTED CANDLES
SHAVING LOTION
SHELLAC
SHOE POLISH
SNAIL BAIT
SPOT REMOVERS
SPRAY STARCH
STRYCHNINE
SULFURIC ACID
SUPER GLUE
SUNTAN LOTIONS/OILS
SURGICAL ACRYLICS
TEA TREE OIL
TURPENTINE
WAX
WEED KILLERS
WINDOW CLEANERS
WOOD PRESERVATIVES
Toxic Foods
Foods toxic for birds:
1) Chocolate
Chocolate poisoning first affects a bird's digestive system, causing vomiting and diarrhea. As the condition progresses, the bird's central nervous system is affected, first causing seizures and eventually death.
2) Apple Seeds
Believe it or not, apples - along with other members of the rose family including cherries, peaches, apricots, and pears - contain trace amounts of Cyanide within their seeds. While the fruit of the apple is fine for your bird, be aware that in addition to the poisonous seeds, there may be pesticides present on the fruit's skin. Be sure to thoroughly cleanse and core any apple pieces that you share with your bird to avoid exposure to these toxins.
3) Avocado
The skin and pit of this popular fruit had been known to cause cardiac distress and eventual heart failure in pet bird species. Although there is some debate to the degree of toxicity of avocados, it is generally advised to adopt a "better safe than sorry" attitude toward them and keep guacamole and other avocado products as far away from pet birds as possible.
4) Onions
While the use of limited amounts of onion or garlic powders as flavorings is generally regarded as acceptable, excessive consumption of onions causes vomiting, diarrhea, and a host of other digestive problems. It has been found that prolonged exposure can lead to a blood condition called hemolytic anemia, which is followed by respiratory distress and eventual death.
Hemolytic anemia (HEE-moh-lit-ick uh-NEE-me-uh) is a condition in which red blood cells are destroyed and removed from the bloodstream before their normal lifespan is up.
5) Alcohol Although responsible bird owners would never dream of offering their pet an alcoholic drink, there have been instances in which free roaming birds have attained alcohol poisoning through helping themselves to unattended cocktails. Alcohol depresses the organ systems of birds and can be fatal. Make sure that your bird stays safe by securing him in his cage whenever alcohol is served in your home.
6) Mushrooms
Mushrooms are a type of fungus, and have been known to cause digestive upset in companion birds. Caps and stems of some varieties can induce liver failure.
7) Tomato Leaves
Tomatoes, like potatoes and other nightshades, have a tasty fruit that is fine when used as a treat for your bird. The stems, vines, and leaves, however, are highly toxic to your pet. Make sure that any time you offer your bird a tomato treat it has been properly cleaned and sliced, with the green parts removed, so that your bird will avoid exposure to any toxins.
8) Salt
While all living beings need regulated amounts of sodium in their systems, too much salt can lead to a host of health problems in birds, including excessive thirst, dehydration, kidney dysfunction, and death. Be sure to keep watch over the amount of salty foods your bird consumes.
9) Caffeine
Caffeinated beverages such as soda, coffee, and tea are popular among people - but allowing your bird to indulge in these drinks can be extremely hazardous. Caffeine causes cardiac malfunction in birds, and is associated with increased heartbeat, arrhythmia, hyper activity, and cardiac arrest. Share a healthy drink of pure fruit or vegetable juice with your bird instead - this will satisfy both your bird's taste buds and nutritional requirements.
10) Dried Beans
Cooked beans are a favorite treat of many birds, but raw, dry bean mixes can be extremely harmful to your pet. Uncooked beans contain a poison called hemaglutin which is very toxic to birds. To avoid exposure, make sure to thoroughly cook any beans that you choose to share with your bird.

Other Foods To Avoid
Fatty foods
High fat in the diet leads to obesity and may result in lipomas (fatty tumors), lipemia (fat in the blood), and hepatic lipidosis (fatty liver disease). Any greasy, oily or otherwise fatty food should be avoided. Commonly overfed fatty foods include nuts, French fries, crackers, marbled meat, peanut butter, butter, fried chicken, fried anything etc.
Sugar foods Obviously, frosting is high in sugar and an undesirable foodstuff. Similarly, soda pop, candy and these types of foods are not recommended.
Dairy Birds lack the digestive enzymes needed to break down milk sugar and milk proteins. Uncultured milk products such as milk, cream and butter should not be fed but yogurt, cheeses and dried milk can be supplemented in the diet in moderation (they are also high in fat).
Lettuce A typical filler food, lettuce is low in everything except water. It is not recommended as a food supplement since it offers little, if anything, for the bird. If leafy foods are desired by your bird, try feeding spinach, collard greens, tops of bok choy, carrot tops or kale.
Avocado Although higher in fat than other veggies and used in other countries to condition birds for breeding, avocado has been shown to be toxic in some birds and its feeding is no longer recommended, as mentioned above in the Toxic Foods listChris
Type of Lory Approx. Weight Approx. Daily Nectar consumption per bird
Latin Name--------English Name Weight In Grams Suggested Daily Nectar/Powder
--------------------------------------------------------------------------------------------------------------------------------------------------------------------------------
Chalcopsitta a. atra Black Lory 220-250 1 cup/8 ounces
C. a. insignis Rajah Black Lory 200 - 250 1 cup/8 ounces
C.d. duivenbodei Duyvenbode's Lory 230-250 1 cup/8 ounces
C. s. scintillata Yellow-Streaked Lory 200-230 1 cup/8 ounces
C. cardinalis Cardinal Lory 200-250 1 cup/8 ounces
Eos cyanogenia Black winged Lory 160-200 3/4 cup/6 ounces
E. s. squamata Violet-necked Lory 125-150 3/4 cup/6 ounces
E. reticulata Blue-Streaked Lory 160-175 3/4 cup/6 ounces
E. h. histrio Red and Blue Lory 160-200 3/4 cup/6 ounces
E. b. bornea Red Lory 170-190 3/4 cup/6 ounces
Pseudeos fuscata Dusky Lory 155-165 1 cup/8 ounces
Trichoglossus ornatus Ornate Lorikeet 95-120 1/2 cup/4 ounces
T. h. haematodus Green Naped Lorikeet 130-150 3/4 cup/6 ounces
T.h. mitchellii Mitchell's Lorikeet 85- 00 1/2 cup/4 ounces
T.h. webwei Weber's Lorikeet 85-100 1/2 cup/4 ounces
T.h. capistratus Edward's Lorikeet 130-150 3/4 cup/6 ounces
T.h. rosenbergii Rosenberg's Lorikeet 130-150 3/4 cup/6 ounces
T.h. massena Massena's Lorikeet 130-150 3/4 cup/6 ounces
T.h mulluccanus Rainbow Lorikeet 130-150 3/4 cup/6 ounces
T.h. rubritorquis Red Collard Lorikeet 130-150 3/4 cup/6 ounces
T.f. meyeri Meyer'e Lorikeet 55-60 1/2 cup/4 ounces
T. chlorolepidotus Scaly-breasted 85 3/4 cup/6 ounces
T euteles Perfect Lorikeet 95-115 3/4 cup/6 ounces
Psitteuteles goldiei Goldie's Lorikeet 50-65 1/2 cup 4 ounces
P. johnstoniae Mt. Apo Lorikeet 55-65 1/2 cup/4 ounces
P. versicolor Varied Lorikeet 60-70 1/2 cup/64 ounces
Lorius l. lory Black-capped Lory 200-250 1 cup/8 ounces
L.l. erythrothorax Red-breasted Lory 200-230 1 cup/8 ounces
L.l. salvadorii Salvadori Lory 200-230 1 cup/8 ounces
L.l. jobiensis Jobi Lory 210-250 1 cup/8 ounces
L. chlorocercus Yellow-bibbed Lory 150-200 3/4 cup/6 ounces
L. domicellus Purple-napped Lory 250 1 cup/8 ounces
L.g. garrulus Chattering Lory 200-250 1 cup/8 ounces
L.h. hypoinochrous Purple-bellied Lory 250 1 cup/8 ounces
Glossopsitta concinna Musk Lorikeet 60-80 1/2 cup/4 ounces
G. pusilla Little lorikeet 45 1/2 cup/4 ounces
G. porphyrocephala Purple Crowned Lorikeet 45 1/2 cup/4 ounces
Charmosyna papou goliathina Stella's Lory 95-115 3/4 cup/6 ounces
Oreopsittacus arfaki major Whiskered Lorikeet 22-28 1/4 cup/2 ounces
Neopsittacus musschenbroekii Musschenbroek's 50 1/2 cup/4 ounces